Location:
115093, Москва, Павловская ул., 6
close
Photos
Video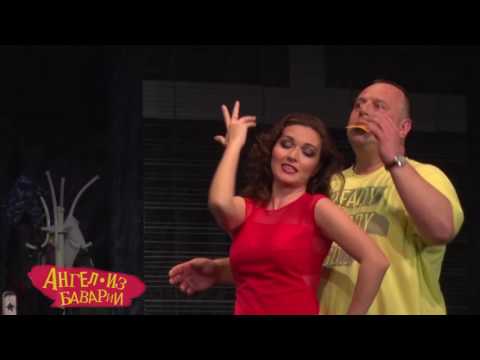 Story
ROMANTIC COMEDY Excellent relaxation from working days! With us you will forget about everything, and two hours of carefree laughter are provided to you! ACTORS: Alexey Tikhonov / Yegor Barinov, Anna Bolshova / Ekaterina Volkova, Julia Takshina / Yulia Stozharova, Polina Borunova, Maxim Pinsker, Sergei Druzhko, Edgar Malin. "After him, not just the ashes remain, the whole fertile layer disappears!" - so the main character, Paul tells his wife Martha about his father, Papa Hans. Marta is happy for modesty, order, purity, high morality and morality. Papa Hans, a lover of women, dancing and poetry, lives cheerfully, deliciously and brightly. All of them are waiting for the visit of the notary, who will announce, who will inherit from them? But while they are forced to get along with each other. Hans walks and drives women, Martha tries to drive him into strict rules, Paul rushes between them. Endless fictions of Hans bring Martha to the limit and she takes a gun in her hands! The viewer's attention is not lost for a second. Constant plot twists, tricks, humor, dancing and beautiful romance. A huge inheritance, sailing away from the hands ... Love and dances against the strict rules of morality. Dizzy turns of the plot, a chain of misunderstandings and of course - a fairy tale! ... never had the Angel's arrival been so destructive ... or creative ...
Read more
Review
How unbearable this father is Hans! An avid epicurean, he knows the sense of fun, pays tribute to poetry and dancing and, of course, passionately adores the beautiful sex!
Yes, that's just where Hans lives not alone, with him - his son's family. The wife of Martha's son is not going to put up with those endless obscenities that get up with Hans! She will try to bring him to reason.
And in the meantime ... it's a big inheritance. To whom does it get? Everyone is waiting, soon a notary will arrive. Who will be the lucky person who will get a lot of wealth? ..
Read more
FeedBacks
Give feedBack
Tickets
No tickets
20
jule
thu
19:00
Invite friends
Related events
Based on thousands of feedbacks, Teatronet defined events that are "close in spirit to the times and tastes"
by the way!!
According to statistics and audience who have bought a ticket for«Ангел из Баварии», we recommend to see